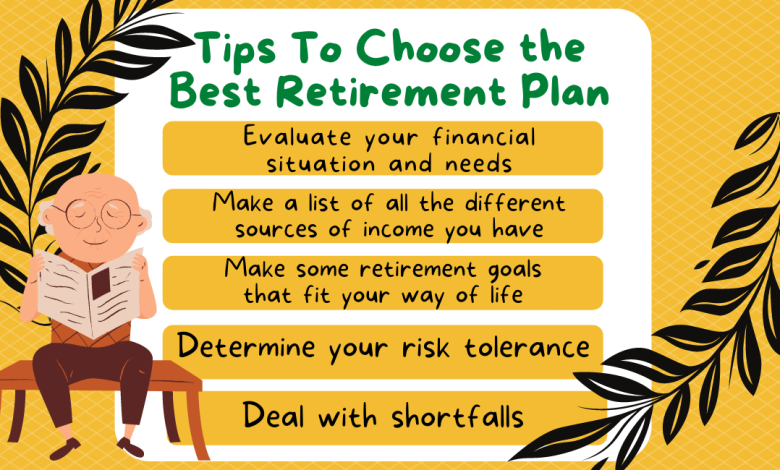 Tips To Choose the Best Retirement Plan
Planning for a safe retirement is the most challenging financial problem someone may face. Unfortunately, many people in the workforce are unprepared for this challenge. Because retirement and pension plans are only designed to replace a fraction of one's earnings after retirement, those who are less than 5 years away from retiring must construct a plan to get across the finish line safely. Make sure you get the right retirement plan for your financial needs and current financial situation.
Evaluate your financial situation and needs
Even if you are financially unprepared for retirement, you may be unaware of it. To build a path that would actually remedy any deficits, you must first assess your existing financial status. You can design a monthly, bi-monthly, or quarterly roadmap or budget. However, it must be reasonable and limited to a few months.
People who haven't saved anything should assess their situation and determine what sacrifices they are willing to make. Luxury products, gym memberships you never use, and club membership are all fees that can be avoided if you prepare ahead for retirement.
It's worth noting that a person can gain by only taking a few critical measures now since these small steps will add up to a significant impact in the long run.
Everyone should start by assessing how much money they have in their savings accounts. There are specific investment savings as well as corporate retirement funds and pension systems. If people simply wish to use their money for retirement, they should open taxable accounts.
Make a list of all the different sources of income you have
Although it may not be the only source of monthly income in retirement, existing retirement savings should provide the majority of monthly income. Other than investments, additional income can come from a variety of sources. In today's world, there are numerous possibilities and sources that can help a person diversify their source of cash and income.
Assume you're fortunate enough to be covered by a pension plan. If a person has that plan, they can take into account the asset's monthly benefit. People who are retired can still tally up earnings from a part-time job.
Make some retirement goals that fit your way of life
When it comes to pension plans, this is still an important factor to consider. Someone who wants to downsize to a smaller home and live a comfortable, modest lifestyle after retirement will have very different financial needs than someone who wants to travel extensively after retirement.
Calculate everyday expenses after retirement, including healthcare, dining out, and recreational activities. Health-care costs, such as life insurance premiums, long-term care insurance, prescription prescriptions, and doctor's appointments, can quickly mount up later in life, so factor these into your retirement planning.
Determine your risk tolerance
Risk tolerance varies according to age. As jobs near retirement age, portfolio ratios may become more cautious in order to protect accumulated funds.
A bear market could jeopardize your intentions to retire only a few years from now. Retirement portfolios should primarily consist of high-quality, dividend-paying equities and investment-grade bonds to provide both conservative growth and dividends.
Deal with shortfalls
All of the data you've acquired so far can help you answer the most critical question of all: Do your retirement savings exceed the amount required to fully fund your retirement? If you answered yes, it's critical to keep up the momentum and stay on track by continuing to finance your savings plans. If you answered no, you'll have to figure out how to close the gap.
With only 5 years till retirement, individuals who are behind schedule must discover strategies to boost their funds. To make considerable progress, you'll almost certainly need to combine boosting your savings rate with reducing unnecessary spending.
It's critical to figure out how much more you need to save in order to close the gap and make the required changes.
For the finest pension plans, consult a financial advisor
Only a few people have mastered the art of money management. It can be a good idea to seek advice from a financial counselor or accountant.